"Keramas will be amazing to watch"Joe Turpel
Joe Turpel has become one of the most iconic voices in professional surfing.
"At a young age Joe Turpel has become one of the most iconic voices in professional surfing. But Turpel's roots in the sport and his passion for broadcasting go well beyond his time in the booth calling heats. What started out as a summer school project turned into a potential career path, becoming more refined as Turpel put aside team sports to focus on his love of surfing."
We meet Joe Turpel in Portugal and had a chat with this cool charachter that shares some of his experiences and opinions with us!
How have you seen this WCT season? JJ Florence title, Medina, Wilson, Jordy and Matt in the run?Slaters injury and the return?



This season was really fun to watch. There were some huge moments that will always be remembered in surfing history. From Owen's unbelievably inspiring comeback win to the tour. To John John's complete domination of Margaret River, Filipe Toledo's new school approach to Jbay, Jordy finally got his Bell. Julian turning the combination on Medina in 90 seconds to steal the win with back to back 9s in Tahiti was remarkable. Then to have Medina beat John with the flip in France and get revenge on Julian in Portugal to complete the  sweep of the European leg was beyond exciting for the title race and for surfing history.

John was able to prove once again that he is the best surfer in the world. To go back to back is a huge statement that only a handful of surfers have done. We had 4 contenders remaining at the start of Pipe and that shows that there's still a lot of talent that can try to take him down and its making the rest of the tour even more hungry.

It was really tough to see Kelly go through such a severe injury this late in his career. He was unable to defend his event title in Tahiti and it really just brought up questions if he'd end up saying goodbye to the tour. His showing at Pipe and his sessions that have followed that event are really positive signs he will fight hard for the 12th world title next year. Every year we have Kelly on tour we all benefit from his presence.



You became one of the most iconic voices in professional surfing. What do you think that can change in the broadcasting? Do you have any ideas?



Thanks. I think technology always improves and WSL loves to keep up with all the latest equipment. The drone footage is my favorite. New angles of showing the best surfers will always be getting better and better.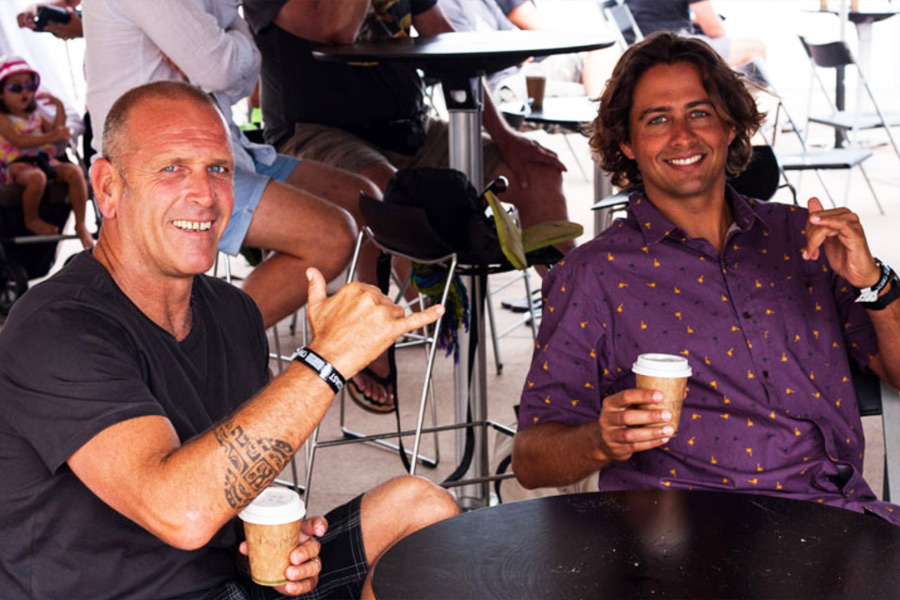 *Joe Turpel and fellow Martin Potter
There are some changes in 2018 world tour, like the Surf Ranch stop. How do you see these changes?


The changes are big ones and its very exciting. Keramas will be amazing to watch. The tour stopped there in 2013 and John did that massive alley oop that we still reference. We will see a maneuver landed during the event next year that we haven't seen before.

The Surf Ranch is just so futuristic. I was able to attend and commentate a test event at the Surf Ranch that saw Gabriel Medina and Carissa Moore take top honors. Every wave was insane to watch. You find yourself holding your breath during the ride because its really intense.  The Surf Ranch really brings a whole new element to the sport. The tide is never wrong, you won't be hassled for waves. The ranch won't go flat. You will get your opportunities and its up to the surfer to perform. Its a new kind of pressure that saw the most seasoned World Champs nervous like they've never felt before. I cant wait.




As an iconic face at WSL, people talk to you about these changes? What do they say to you?


All the time. I love that WSL actively makes decisions to take surfing to new places and platforms. And I love when people ask me about the changes and the tour. Its my favorite thing to talk about. People ask which surfers will be more favored for a title with Keramas added. They ask what the Surf Ranch is like. All expected questions that a good surf fan should have.




I know that your father was a lifeguard and surfer. What's your first memory regarding surf?And, how would be your life today if that didnt happen? What would be your job?


My dad is my hero. I am who I am because of him in every way. My first memory of surfing is back in Waikiki. We lived on Oahu and my dad would take my sister and I to the beach. My dad wasn't a contest guy or an surf industry guy at all. He just loved the ocean. He always celebrated the ride. I love how the waves I caught with him and my sister were all about enjoying the ride. No criteria for performance or form coaching. All about embracing the feeling purely of riding a wave.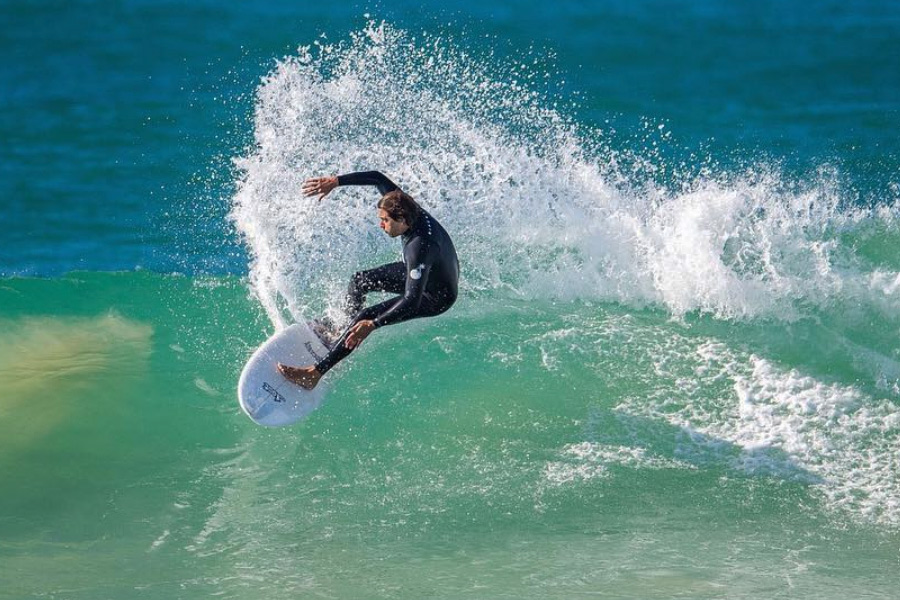 *Joe Turpel surfing
What's the best part of your job? And the worst?


I love everything about broadcasting. The feeling you get when you go "live" all around the world is something special. You feel yourself come alive. I enjoy the feeling of working with a great crew and seeing the magic unfold into a show.

The tough part is missing your family and friends. However, the tour also becomes your family and you start realizing you have friends all over the world you get to see every year. So the tough part is balanced with adding beautiful people into your world.




Travelling is part of your job. Do you have any special technique to package? What do you always carry in your suitcase?
Any funny travel stories you want to share?

I roll all my clothes up super tight so I can fit everything. My grandfather packed the same way when he was in the Navy. He was a commander and I was given this little book he used to travel with when he was away at sea. In the book are all sorts of words of wisdom, advice and direction that he would read often. I always have it with me. Sometimes ill even have it in my pocket while I'm working. Flipping through the pages, I can feel his energy and my dads too. Im named after both of them. Im Joseph Turpel III.

Funny things happen all the time when traveling. One time i was flying to London and dinner was served. My tray table was packed with food and water and a glass of wine. I was in an aisle seat and across the aisle was a football player dressed in a suit and tie. He was easily five times my size. I tried to sit up in my seat to eat and I bumped my tray and the only thing that fell off was this full glass of red wine. It hit the floor and somehow dumped everything all over this guys perfectly white shirt. It might've been the first time I was at a loss for words. He stared right at me with a "I cant believe it look on his face" and also 'Im not so sure how this is going to go for you face".
As I continued my frantic stuttering apology he started laughing so hard which made me laugh and everyone around us. I was around a group of strangers and we all just kept laughing about it throughout the flight. The flight attendants cleaned up his shirt for him. I offered to pay for a new one and more laughter came. It was the best outcome I could've hoped for. Thank goodness he had a good sense of humor.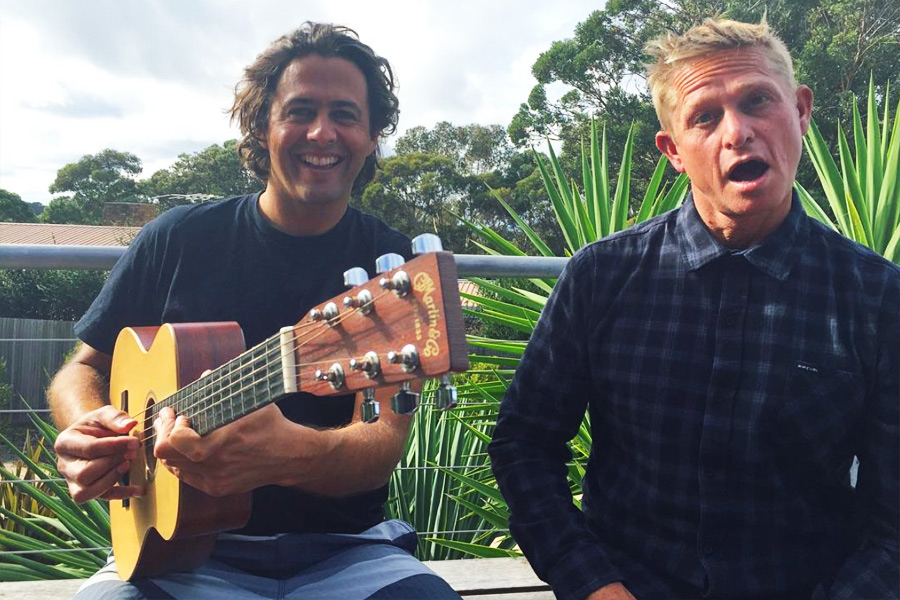 *Joe Turpel and his fellow Strider Wasilewski.
What do you think of Frederico Morais, and his first year at WT? Where can he get at surf? What are the main differences between him and TIago Pires?


Before Snapper started I went golfing with Fred Pattachia Jr. and we were making our picks for rookie of the year. I went with Frederico. He is so solid and reliable. He doesn't act or surf like a rookie. He made a huge reputation for himself as a wildcard in the past. So I felt he would bring the same composure to the tour.
His biggest weapon is definitely his head. He's so confident and smart. He can put a game plan together and stick to it.
He has a lot of room to grow at Pipe and Tahiti. And if he adds more variety next year he'll easily be in the top ten. He should be very proud of his rookie year. He took down some big names including John John Florence.

Tiago paved the way for Morais and Portugal. I know Morais learned a lot from Tiago. They both have a solid frontside hack. I think the major difference is that Frederico benefits from Tiagos road before him. So Morais has more resources and not as big of a learning curve which saw him adjust to the top 34 easily.




Portugal is totally in the surf map. Was this evolution expected?


I think once you visit Portugal and realize how many amazing waves there are, you can see how its a dream for world class surfers to be based there and for the WSL to make frequent stops to crown champs in all disciplines. From world juniors, to longboard, to qualifying series events, to the Big Wave and to the Championship tour. Its one of the only surfing nations that can host all. This will just build a great surf community even further and give Frederico much more company from Portugal on the top 34.






Who do you think is the most complete surfer nowadays?


John John Florence. He won the Eddie Aikau event at Waimea Bay in 40 foot surf and won in Brazil in 2 foot surf a couple months later the year he won his first world title. He has no weaknesses and he sets the bar as being the best in power, big waves, barrel riding, airs and high performance. He's a two time world champ and it feels like he just gets better every year.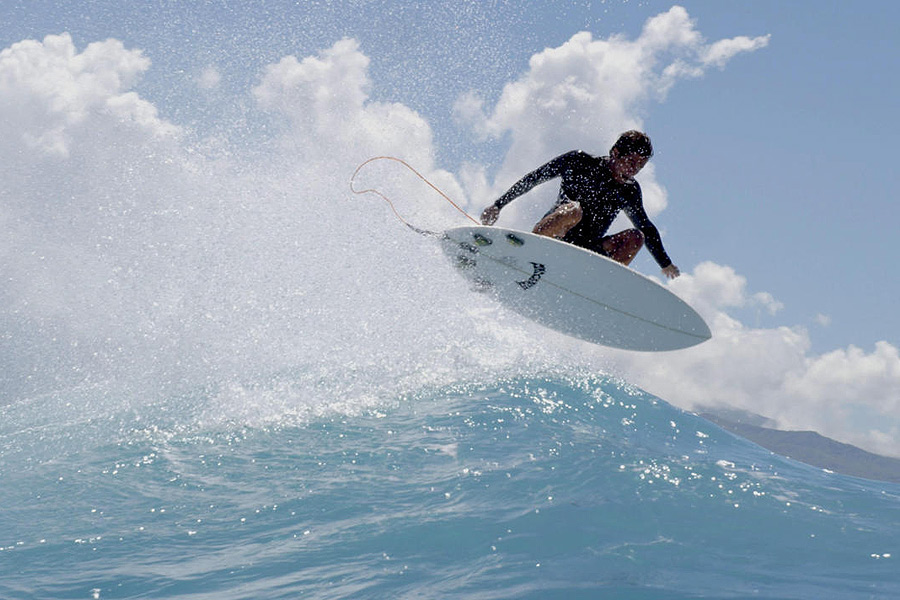 *Joe Turpel showing his surf skills