Jeffreys Bay. Pic by Cestari/WSL
CORONA PRO JEFFREYS BAY MIGHT START THIS THURSDAY
The waiting period for the Corona Open J-Bay began yesterday (12-23 July), but the day was off at Jeffreys Bay due to the small waves .


When the event starts the top 34 of the World Surf League will battle for the world title, knowing that the top five athletes in the ranking are separated by only 600 points. In the press conference presentation round, Matt Wilkinson talked about reaching South Africa in his yellow jersey.

"Becoming the leader of the ranking in the last event did not seem to me an option, therefore, being able to wear the yellow lycra is incredible. At this stage, last year, I had a pretty solid lead for the first time in my career that came from nowhere. Now I feel it is different and I have four surfers behind me separated by few points. I'm very excited to be back in this place and i hope i do not fall so much this year and be able to pass some heats, "said the Australian.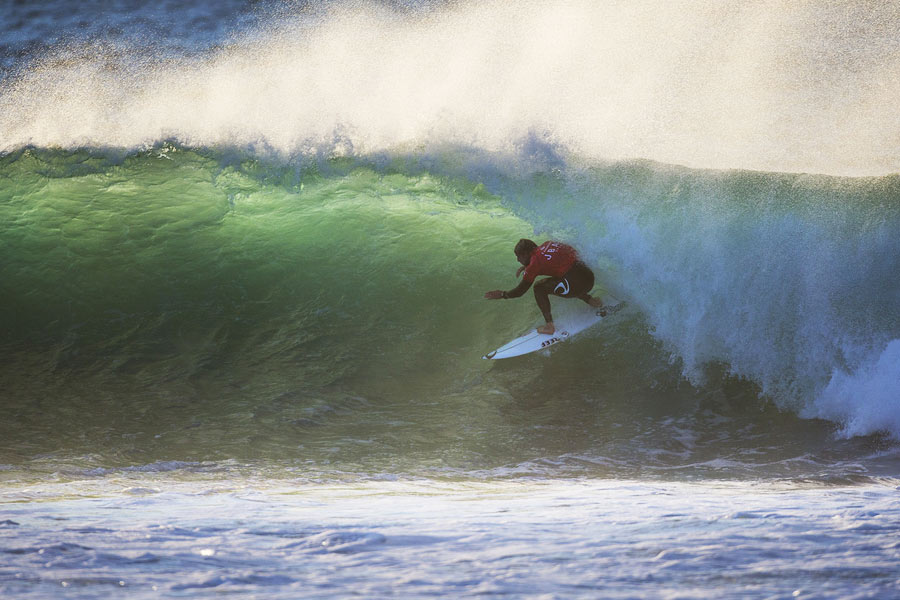 - With four wins in this event, including last year's trophy, three-time world champion Mick Fanning is one of the big favorites. Photo: Cestari / WSL

Also Mick Fanning, who has won four times at J-Bay, is looking to improve his performances this season and get the first big result of the year in South Africa. "I feel at home here, very comfortable and relaxed. The people are fantastic and the wave is incredible. When we return to a wave we love the excitement level goes up and we feel more motivated. I get up every morning at night to see the surf and can't wait for the start. This is a place I want to go back every year, "he said.

The wildcards of this event are the South Africans Dale Staples and Michael February. Know the Round 1 heats:

H1: Joel Parkinson (AUS), Wiggolly Dantas (BRA), Miguel Pupo (BRA)
H2: Owen Wright (AUS), Bede Durbidge (AUS), Josh Kerr (AUS)
H3: Adriano de Souza (BRA), Frederico Morais (PRT), Jadson Andre (BRA)
H4: Matt Wilkinson (AUS), Jeremy Flores (FRA), Ethan Ewing (AUS)
H5: Jordy Smith (ZAF), Conner Coffin (USA), Michael February (ZAF)
H6: John John Florence (HAW), Ian Gouveia (BRA), Dale Staples (ZAF)
H7: Kolohe Andino (USA), Italo Ferreira (BRA), Leonardo Fioravanti (ITA)
H8: Julian Wilson (AUS), Kelly Slater (USA), Kanoa Igarashi (USA)
H9: Connor O'Leary (AUS), Adrian Buchan (AUS), Jack Freestone (AUS)
H10: Gabriel Medina (BRA), Caio Ibelli (BRA), Stuart Kennedy (AUS)
H11: Sebastian Zietz (HAW), Mick Fanning (AUS), Joan Duru (FRA)
H12: Michel Bourez (PYF), Filipe Toledo (BRA), Ezekiel Lau (HAW)