"The second quake struck about 5km (3.1m) south of the village of Belanting at a relatively shallow depth of 20km (12.5m), the United States Geological Survey (USGS) said.
There was no immediate tsunami alert from the Pacific Tsunami Warning Center, and there have been no early reports of damage or casualties.
The USGS initially reported a 7.2-magnitude earthquake that struck at a depth of 1km (0.62 miles), before downgrading its severity minutes later.
Earlier on Sunday, a 6.3-magnitude tremor struck Lombok just weeks after a 7.0-magnitude earthquake killed more than 430 people on the island.
The powerful tremors on 5 August damaged tens of thousands of homes and displaced hundreds of thousands of people.
The quake on Sunday morning caused landslides and damaged buildings but there are no reports of injuries or fatalities.
The shaking toppled motorcycles and there was damage to buildings in Sembalun sub-district, including a community hall that collapsed.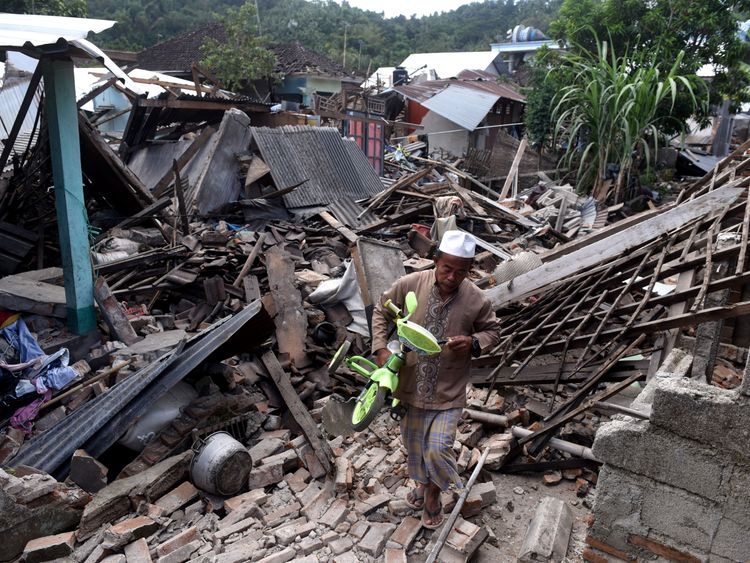 National Disaster Mitigation Agency spokesman Sutopo Purwo Nugroho said the structure had sustained damage in earlier earthquakes.
Mr Nugroho added that homes and a mosque were also damaged.
Mount Rinjani, an active volcano on the island, has been closed to visitors following a July earthquake that killed 16 people."